Jump to Recipe
Print Recipe
One of the benefits to living in Pennsylvania is the ability to find or grow raspberries. If you don't have a spot in your yard for a few raspberry bushes (which I totally recommend!), pick nearly any back road, take a short drive, and your bound to find wild raspberries contently growing within eyesight of the road. Raspberries are plentiful around July, with some varieties producing well into fall.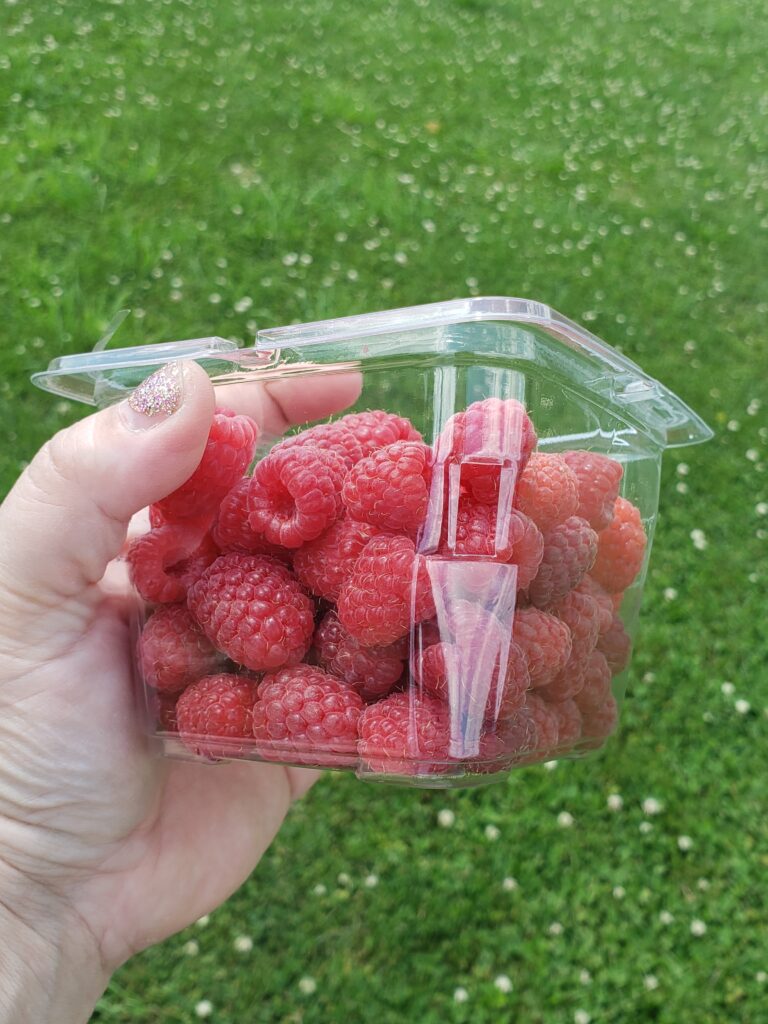 We opted to add ten everbearing raspberry bushes when we first moved to our homestead. The plot has multiplied into a jungle of thorny bushes that yield gallons and gallons of raspberries every year.
This means that we have to be creative with our uses. I mean, one can only make and use so much jam, right?!
In addition to fruit leather, baked goods, and downright gifting the berries away, a recent beverage experiment led to a wonderfully refreshing drink. It is not a juice or an ade, but rather a lightly sweet and tart flavored water. You know, the kind that can quench your thirst even on the hottest of summer days.
Did I mention the recipe requires only 4 ingredients?
water
lemon juice
raspberries
sugar
(Does water even count as an ingredient?!)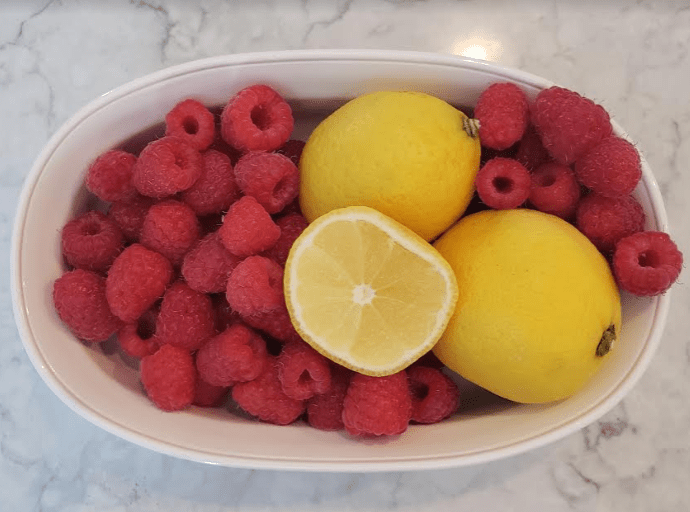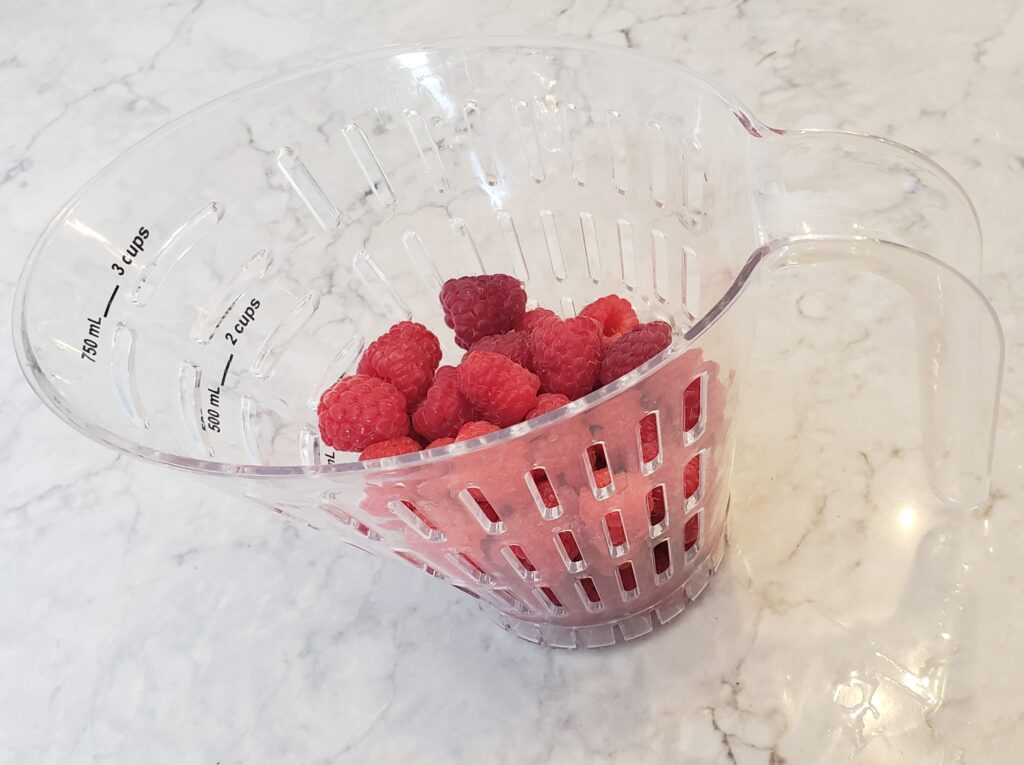 To make the recipe, you want to make sure to prep your berries. I find using the Pampered Chef Easy Read Colander saves time and dishes because I can measure out my berries and wash them in the same container.
After the berries are washed, you want to remove the seeds. I've found that the easiest way to do this is to put them into a fine mesh sieve and use the back of the spoon to crush them. You could also mash up your berries and filter them through cheesecloth. Or, if you're feeling a little dangerous, leave the seeds in…they'll sink to the bottom. Careful pouring should avoid any unwanted seeds in someone's glass.
Once the berries are prepped, add them to a pitcher along with the other ingredients and give it a stir. Might I also suggest heating up a cup or so of your water so you can easily dissolve the sugar in the recipe. It's not required, but will prevent sugar from sinking to the bottom. It's that easy. Promise.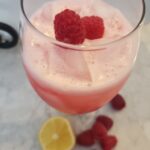 Print Recipe
Raspberry Lemon Refresher
This lightly tart and sweet beverage is the perfect drink for a hot day.
Ingredients
1/2

cup

granulated sugar

5

cups

water

filtered is best

1/4

cup

freshly squeezed lemon juice

1

cup

raspberries
Instructions
In a small saucepan, add sugar to 1 cup of water. Heat until dissolved.

While water is warming, place your raspberries into a fine mesh sieve. Using a spoon or rubber spatula, crush berries and push through the sieve. ( I do this right into my pitcher to save on dishes!)

Combine sugar water, remaining water, lemon juice, and raspberry puree into a 1/2 gallon pitcher. Chill and serve.
Finally, if you'd like to start growing raspberries, or other fruits and vegetables for yourself and your family but don't know where to begin, check out The 7 Essential Items You Need to Start Gardening.