Jump to Recipe
If you've been searching for the perfect white bread recipe, I've found it! I've tweaked it. I've mastered it.
Let's just say, I've been baking. A. Lot. And, one of the items that makes it onto my almost daily rotation of kitchen tasks is baking bread. It took me years, literally, to find a recipe that worked for our homestead's needs. This one is it. It's the winner. I can use this recipe to make sandwich bread, hamburger rolls, hot dog rolls and even Italian bread. The bonus…I don't have to buy a special flour to make it; good ol' all purpose flour is all that is "kneaded."
If I were to describe this yeasty treat, I would say it is light and slightly moist, with just a hint of buttery flavor. It holds up well to toasting and to egg dipping for breakfast treats and can be used for sandwiches and burgers alike.
Once you master the basic recipe, the sky's the limit on options. Top it with sesame seeds, poppy seeds, garlic butter, herbs, sea salt, or even cinnamon sugar. If you free-form it on a large pan and proof it a little less, it makes a delicious Italian dinner bread. Shape it into buns and allow it to proof a little longer for light and fluffy hamburger rolls or hot dog buns.
Some of our favorite toppings include a sprinkling of sesame seeds to our hamburger buns, a dusting of garlic powder and herbs on our free formed Italian loaf , and an addition of sea salt on the top of a plain loaf of bread.
Whatever you choose, it'll take some practice to perfect the density you like best for any given bread. Over the years, I've learned that I prefer to hand knead this dough over using a stand mixer –for one it's therapeutic. I know that my hands have kneaded and formed the loaves that were baked so lovingly for my family. Second, I find I get better results. And, ultimately, it all about the results, right?!
Print Recipe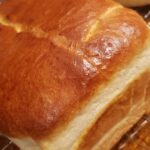 Print Recipe
The Perfect White Bread
This versatile recipe can be used to create nearly any bread product from sliced bread to hamburger and hot dog rolls.
Servings:
2
loaves (10 slices each)
Ingredients
1/2

cup

whole milk

(or plant based milk)

3

Tbsp

granulated sugar

2

tsp

kosher salt

3

Tbsp

butter

(or plant based butter)

3

tsp

active dry yeast

1 1/2

cups

warm water

(110-115 degrees F)

5-6

cups

all purpose flour

1

Tbsp

vegetable oil

(for coating the proofing bowl)
Instructions
In a microwave safe bowl or measuring cup combine milk, sugar, salt and butter.  Microwave on high for 30 second intervals until butter is melted and the sugar dissolves. Be sure not to heat the liquid ingredients too much or you'll risk killing the yeast. A simple test is to dip a clean finger into the liquid –it should feel slightly warm, just above body temperature.

Sprinkle the yeast across the warmed milk mix. Wait until the surface of your liquid gets foamy.

In a large bowl, add 5 cups of bread flour. Make a well in the center, then add warm water and the warmed milk mix. 

Using a rubber spatula, combine the wet and dry ingredients. Once the dough forms a cohesive blob, pour it onto a floured surface and begin to knead the dough.

If the dough is too sticky (sticking to your hands) slowly add 1/4 cup of flour at a time. The dough forms a soft, slightly sticky consistency.

*You can use a stand mixer fitted with a dough hook to complete the kneading, too. Start on level one, until just starting to combine then gradually increase to level four until completely mixed. 

 Using a tablespoon of vegetable oil, coat the sides of a large bowl and place the dough in it. Rotate the the dough ball to ensure that the oil coats all sides.  Cover with a towel and allow to rise to double in size, about 30 mins.

Punch down, turn out dough onto a board and cut in half.  Form the dough in to your pan shape and place into oiled or parchment paper lined bread pans. *If you are making rolls, shape them on a sheet pan.

Use 1 beaten egg white to brush the top of each loaf.  Using a sharp knife, shallow slice down the middle long ways. Cover and allow to rise until just over the top of the lip of the pan (about an hour)

Bake at 375 F for 20 minutes, then turn up the oven to 400 and bake for another 5 minutes, or until the top is golden brown.

Immediately remove from pans and allow to cool on a wire rack.

Once cool, cut and serve, or place in an airtight container for up to 3 days.